PitchCar
BEST GAME OF SKILL '96 IN GERMANY - SPIEL DES JAHRES
BEST GAME OF SKILL '01 IN THE U.S. - GAMES MAGAZINE
Jean du Poël delight us with PitchCar, a world-wide hit !
Build your own track, choose your car, and pitch it ! Choose the best trajectory using the safety rails, stay on your wheels and don't go off the track if you don't want a penalty ! This outstandingly beautiful game of skill is made of wood and is composed of 16 track parts, which allow you to build a vast number of 3.9 meter long tracks.
PitchCar Mini is a small version of PitchCar. Curves and straights and cars are 1/3 smaller, and tracks are 2.50 meter long.
2 to 8 players - ages 6 and up - Game lenght : 30mn
Contents: 8 cars - 16 rails - 6 straight lines - 10 curves - 1 rule

PitchCar Expansions
Owners of PitchCar, you'll soon be able to become true expert pilots with PitchCar expansions.
You'll create a vast number of tracks with weird new pieces:
. Challenge your sense of accuracy with the chicane.
. Hug a bend to pass your opponents or take the outer path with double-trajectory curves.
. Fly over the track thanks to the two springboards (provided with a bridge and a tunnel, only in the PitchCar box).
-- You need the basic game to play --
Contents: 12 rails, 4 double-trajectory curves, 1 chicane, 2 special long straights, 2 springboards, (1 bridge, 1 tunnel,) 1 booklet.

Expansion n°2 :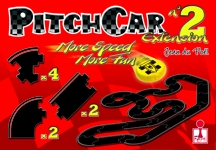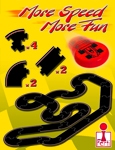 Make more various tracks thanks to eight new pieces:
. Keep your speed in the news 45° curves.
. Make crossroads thanks to two special curves.
. Take speed with two new straights.
-- You need the basic game to play --
Contents: 8 rails, 4 45° curves, 2 curves for crossroads, 2 new straights, 1 booklet.
2 long straights in very limited edition :





This expansion is a set of two long straight lines. Each long line is equivalent to 4 normal straight lines. Be careful, it's a very limited edition.
-- You need the basic game to play --
Contents: 2 long straights.
Expansion n°4 - Stunt Race :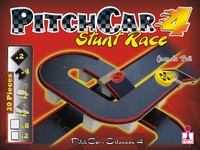 With expansion 4, you cannow build "3D" tracks, with several levels.
-- You need the basic game to play --
Contents: 8 great pillars, 2 small pillars, 2 special straights (way up an slope), 4 special half straights.




More diversity in your Pitchcar tracks thanks to 2 new parts, the 2 crosses. They offer many new possibilities (by placing or not the rails, the tracks can be very diffrent). Some tracks examples.
-- You need the basic game to play --
Contents: 2 crosses.